Socktoberfest Question and Answer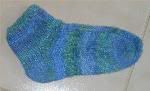 Lolly
has asked
Socktoberfest
participants
to answer a few questions about their sock knitting history. Here's mine.
1. When did you start making socks?
I think it was in 2003 (maybe 04) after we bought our first alpaca and I bought and spun my first alpaca roving.

2. Did you teach yourself or were you taught by a friend or relative? or in a class?
I am a self taught sock knitter. I followed the directions in the
Big Book of Knitting
by Katharina Buss.


3. What was your first pair?
a pair of footies from that first skein of spindle spun alpaca roving. (pictured above.)

4. How have they "held up" over time?
Not very well. I knit at too loose a gauge and the heels are wearing thin. But I still love them and wear them. Lesson learned.
5. What would you have done differently?
Probably used a more tightly spun yarn at a tighter gauge.

6. What yarns have you particularly enjoyed?
I love Lorna's Laces Shepard sock. It knits up very consistently and makes a nice soft sock. I have recently discovered Kona 2-ply superwash in a light fingering weight. It is heavenly and just may be my new favorite. (Thanks
La
.) I also liked knitting with Mountain Colors Bearfoot but the mohair content is a tad itchy. But, not so itchy that I won't use it again.

7. Do you like to crochet your socks? or knit them on DPNs, 2 circulars, or using the Magic Loop method?
I prefer to knit my socks on DPN's. To be perfectly honest I haven't tried the magic loop or 2 circ methods. I just enjoy the process of the DPN's. Since there only a few stitches on each needle I get the feeling that I'm finishing things quickly. It's easy to keep track of the start of a round without the use of a marker. When I have to lay the sock aside the work folds nice and flat.

8. Which kind of heel do you prefer? (flap? or short-row?)
If the socks are for me I do a heel flap. It just seems to fit my feet better. If I could wear a short row heel that would be my preference.

9. How many pairs have you made?
8 completed, 2 on the needles, and 2 in planning.
Thank you Lolly for this fun walk down sock memory lane.
Labels: socks, Socktoberfest