Lincoln County Fair
The
Lincoln County Fair
is one of "The" events of the year. Livestock have been groomed and diligently trained throughout the previous year. Young handlers have spent countless weeks perfecting their showmanship skills. Bakers have tried and rejected recipe after recipe to come up with the one that will win the coveted blue ribbon. Woodworkers have turned the bowl or vase that will stand out amongst the best the county has to offer. There is every craft you can imagine. On the Friday before opening Saturday the Creative Living building (Formerly known as "The Women's Building". Thank goodness the committee saw the light and changed the name.) is a hive of activity; it seems every resident in the county has brought something to enter. Being a farming town we still have the good old fashioned type fair. One of my favorite events are the harness races. The races span several days with the final race being run on the last Saturday. I always try to see at least one day of races. My Mother tells me that her Grandmother always enjoyed the harness races too and when she was a child would go to the fair with her to see the "buggy races". I think it's grand that this was the 102nd annual fair and that it is still pretty much the same as it's always been. Of course now we have all the rides that they didn't have during that very first fair but the fair committee hasn't lost sight of what it's really all about. After all the motto of Fayetteville is "Where Tradition Meets Tomorrow".
This year's fair was extra special for me for it's the one where I entered some of my own handy work. I've always thought that I would like to enter something since we moved here seven years ago, but never had anything that I thought was special enough. I entered three knitted items; a pair of fingerless mittens knit with handspun yarn from Cobble Stone, the cute little alpaca doll also knit with Cobble Stone, and the merino/silk scarf recently blogged here. They were entered in three separate catogories. I came home with three ribbons. I am ecstatic; I really didn't expect to win anything. The mittens took first place, the scarf second, and the doll third.
Pictured below are some of the highlights of our day at the fair.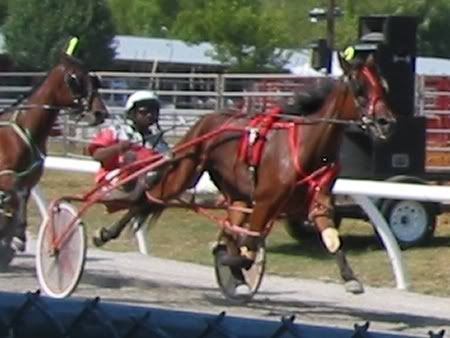 Well, I had several pictures but blogger is being a pain in the ass and I can't get any others uploaded. If blogger decides to cooperate later I'll load more pics.