Rambling Rose
**edited to add pictures**
Since my last post I have thought often that I should write a post but the words just wouldn't come. I'm not so sure that they will flow today but I'm in the mood to give it a go.
So, let the rambling begin.
Our third cria, Miss Rosevelt (Rose), was born the end of June and she is a little doll. She and Jaxson are best buds. I think Lincoln feels left out of the fun sometimes. Here's a short video of one of her running games.
The three moms have been rebred for next year so now we are in the "hope the breeding took" mode. Every five days we will spit test to see if they are pregnant. If pregnant the female will literally spit at the male and run from him. If not pregnant she will cush (lay on her belly with her legs underneath) and allow the male to breed her. We use our less aggresive male for testing; if he gets spit at he will walk away. The other male has a hard time taking no for an answer and will continue to chase. In this heat that is not healthy for the alpacas or the humans that are trying to seperate them. Later we will do progesterone test and possibly ultrasound to verify pregnancy. All this testing helps pass the time while we wait nearly a year for the next group of babies. I love the babies. I'll go out to the pasture in the evening just to watch them play. Very entertaining.
I have several WIP's going right now but don't have pictures of any of them. There are two pair of socks, a lace scar
f, a cabled head band, miniture raglan sweaters, and fingerless mittens. The cabled head band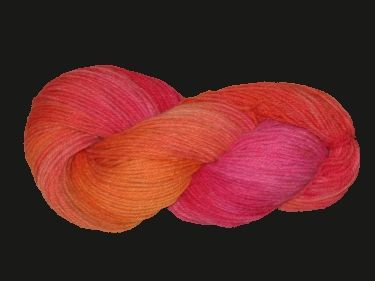 is the current project and should be finished in short order. I'm using the leftover merino/alpaca Popsicle hand dyed yarn that I made fingerless mittens out of a while back (pictured here) . I learned a new technique for this project. I needed a provisional cast-on so that the two ends could be grafted together. Instead of using waste yarn I used a circular needle in the same size that I'm knitting with. (video of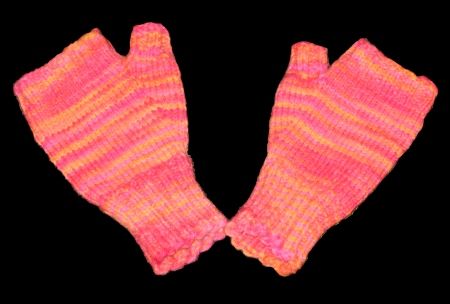 cast-on
here
. the circular needle part is at the end.) When it comes time to graft I won't have to fiddle with taking out the waste yarn and putting the stitches on a needle. I'll just slide the circular needle into position and commence to grafting. The challenge will be determining how to graft the cable and purl stitches so they look good. I've only ever grafted plain stocking stitch before. Pictures will be posted when blogger gets in a better mood.
DH has been helping me skirt fleeces in preparation for shipping to the mill. Well he was. We have put this task off until the humidity and heat settle down a bit. There is no joy in handling fleece, no matter how beautiful, when it's a hundred degrees with humidiy over 60%. Yuck. He and I really haven't been doing much of anything recently. He had neck surgery the end of July and still isn't allowed to do much. Evidently it takes a long time for bone to fuse. He already has relief from the numbness and tingling that he was having on the right side of his face and neck and right arm. His arm would go completely dead at night and prevented him from getting a good nights sleep. We have both had colds and mine is still lingering. Then, last week I came down with a nasty stomach flu. When it was all over I had lost five pounds. I would rather have the five pounds than to go through that. Hubby was a great nurse. He took off work early to bring me medicine and gatorade. He kept my glass filled and checked on me every few minutes. Guess I'll keep him.