Finished Objects
I have actually been knitting lately. And here are two more pair of socks to show off. I am so addicted to sock knitting. I only hate that the weather is just too darned hot now to wear them. As soon as the temp gets above 65 the sandels come out. It's rare to see me in anything else from March until October.
Pair number one started life as my Olympic Knitting project. They were doomed from the beginning. The yarn/pattern combination would have made a good bullet proof vest. They were reborn as good ol' stocking stitch socks.
The Yarn
: Alpaca/Merino worsted weight that I rainbow dyed in shades of blue, plum, and cedar. I call it Evening Shades

The Socks: I love them.

Pair number two came about after I bought this book. I was inspired by the first project listed and the fact that I had the yarn in stash. Again, good ol' stocking stitch was perfect for this yarn.
The Yarn: Cascade 220 Antigua Quattro and black
The Socks: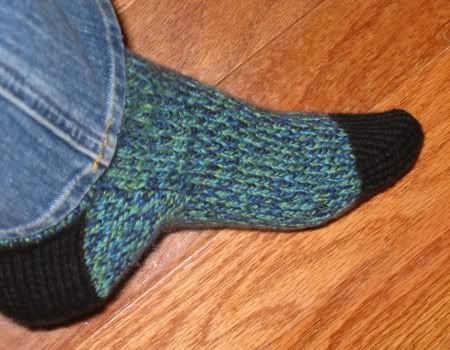 These socks will make excellent slipper socks for around the house. This is the first pair I have made with contrasting heels and toes. I like it and will definately do it again.
These last two pair of socks were a good break. Both being worsted weight they knit up really quick. I'm undecided on which sock project to tackle next. I have some Lorna's Laces shepard sock that I'm planning to dye for self stripping Jaywalkers and some Gems Opal that will be dyed to suit whatever socks I decide on for a sportweight yarn. The jaywalkers will be a big break out of my stocking stitch shell. I'm not big on fussy when it comes to my socks. I usually let the colors in the yarns be the center of attention. For the Gems I may just dye a nice solid color and do some sort of cable pattern. Does anyone have a suggestion for a good pattern for a sportweight?